Experience the transformative power of our Canadian-sewn hemp and organic cotton clothing. Every piece is crafted with intention and designed to tap into the energy of flow. The moment you slip it on, you'll feel the difference. It's more than just clothing; it's a statement of your commitment to a conscious and connected lifestyle.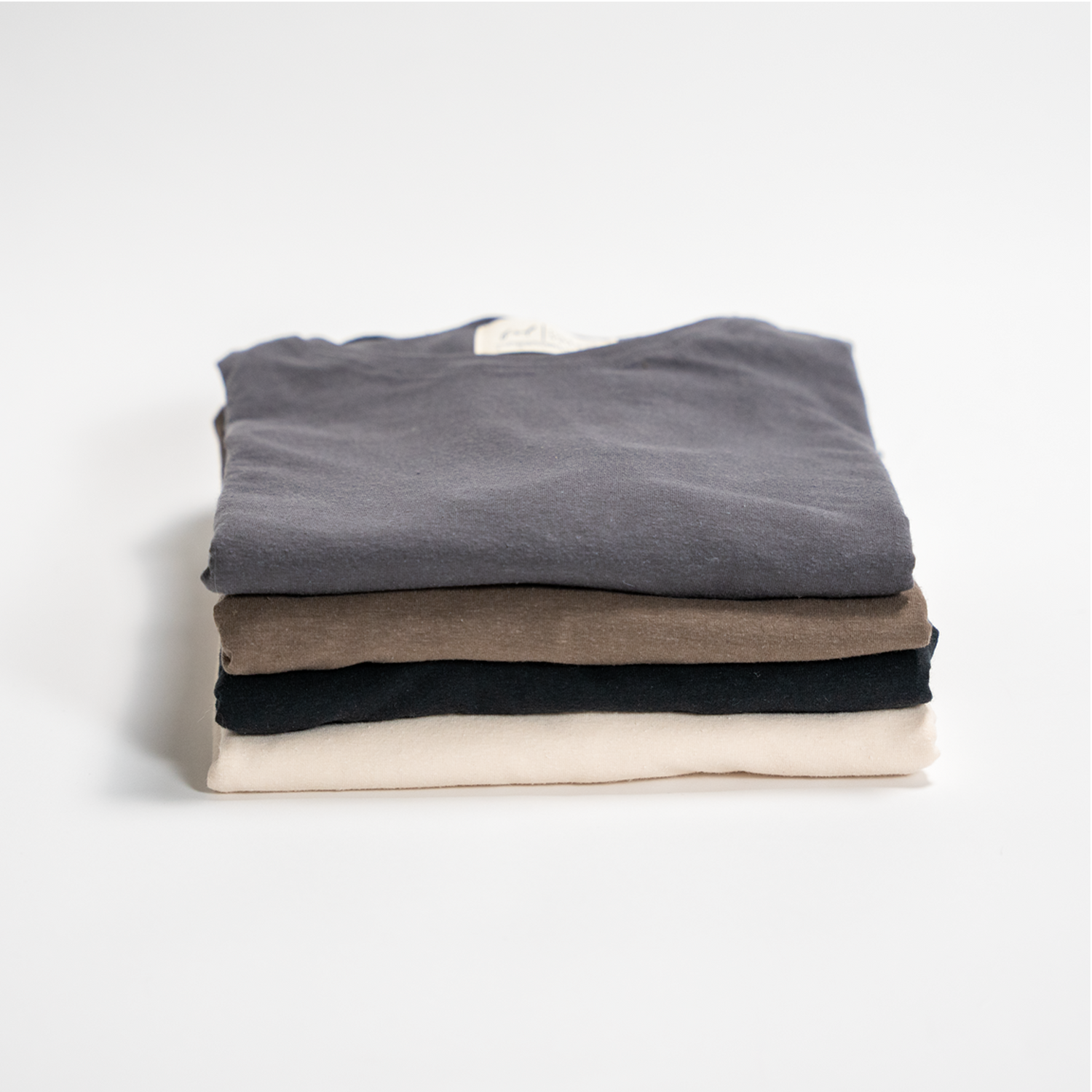 hemp & organic cotton
Discover the power of nature with our hemp and organic cotton clothing. The durability and strength of hemp, one of the toughest fibers on Earth, is matched only by its gentleness on sensitive skin. Hypoallergenic and non-irritating, our hemp clothing wears in, not out, growing softer with every wash and wear.
Organic cotton, grown naturally without toxins or genetically modified seeds, offers a range of eco-friendly benefits without sacrificing the softness, quality, or durability you crave. Experience the ultimate combination of style and sustainability with our Canadian made clothes.
born in challenging times
Flow State Designs was born from a visionary dream, one of an immaculate t-shirt, finely crafted and designed for the modern individual who values quality, durability, and eco-consciousness. We believe that true artistry takes time and should not be rushed, and that the beauty of the end result lies in the slow and methodical journey it takes to get there. Our passion for perfection and dedication to slow fashion has brought our dream to fruition, and we are excited to share our meticulously crafted pieces with the world.
Flow State Designs exists to challenge how you think about your clothes, by reintroducing you to the wonders of natural fibers and sharing the amazing energy of consciously made in Canada clothing!
#irelaxiletgomylifeisinperfectflow
reviews
Boyd Nowek, Calgary, AB

I recently purchased the Flow t-shirt from Flow State Designs and am very happy with it. The fit and feel are just what I was looking for. It's slightly heavier than the average shirt that I own which gives it a durable, quality feel.  The natural fabric also continues to smell fresh even after wearing it for a couple of days which is a bonus.  Highly recommend. 

Boyd Nowek, Calgary, AB

Nathan Kapler, Langley, BC

Flow State Designs shirts are the very thing you didn't know that was missing in your life. They are soft, breathable and have a feel no parallel synthetic shirt can match. The fit is phenomenal and the shirt will leaving your wanting more. Quality, comfort and connection to natural fibres is an experience you must try at least once. Can't wait to see what further products become available from FSD!

Myles Worth, Calgary, AB

These shirts are the greatest. They fit perfect in all areas, they breathe incredibly well and they can be worn for any occasion!  
Dennis Loewen, San Jose, California

I never knew I needed a different t-shirt until I wore a Flow State Designs tee.  A few years ago, I transformed my life to focus on minimalism and with that came a focus on only owning high quality clothing.  I ditched fast fashion with a desire to only have a few pieces (the best of the best).  I found an organic cotton shirt I liked and bought three identical black shirts to rotate throughout a week.  Last year, I replaced those shirts because of fading and shape shifting.  Now, I am extremely excited with my three new Flow State shirts.  I just experienced a heat wave in California with plus 40 degree temps and my shirt kept me cool with its breathability.  It also kept me odorless, which was such a major issue with synthetics I used in the past.  Most importantly, I feel great in the shirt because it looks so damn good.  I will be an Ambassador of this brand and hemp products to anyone who will listen!