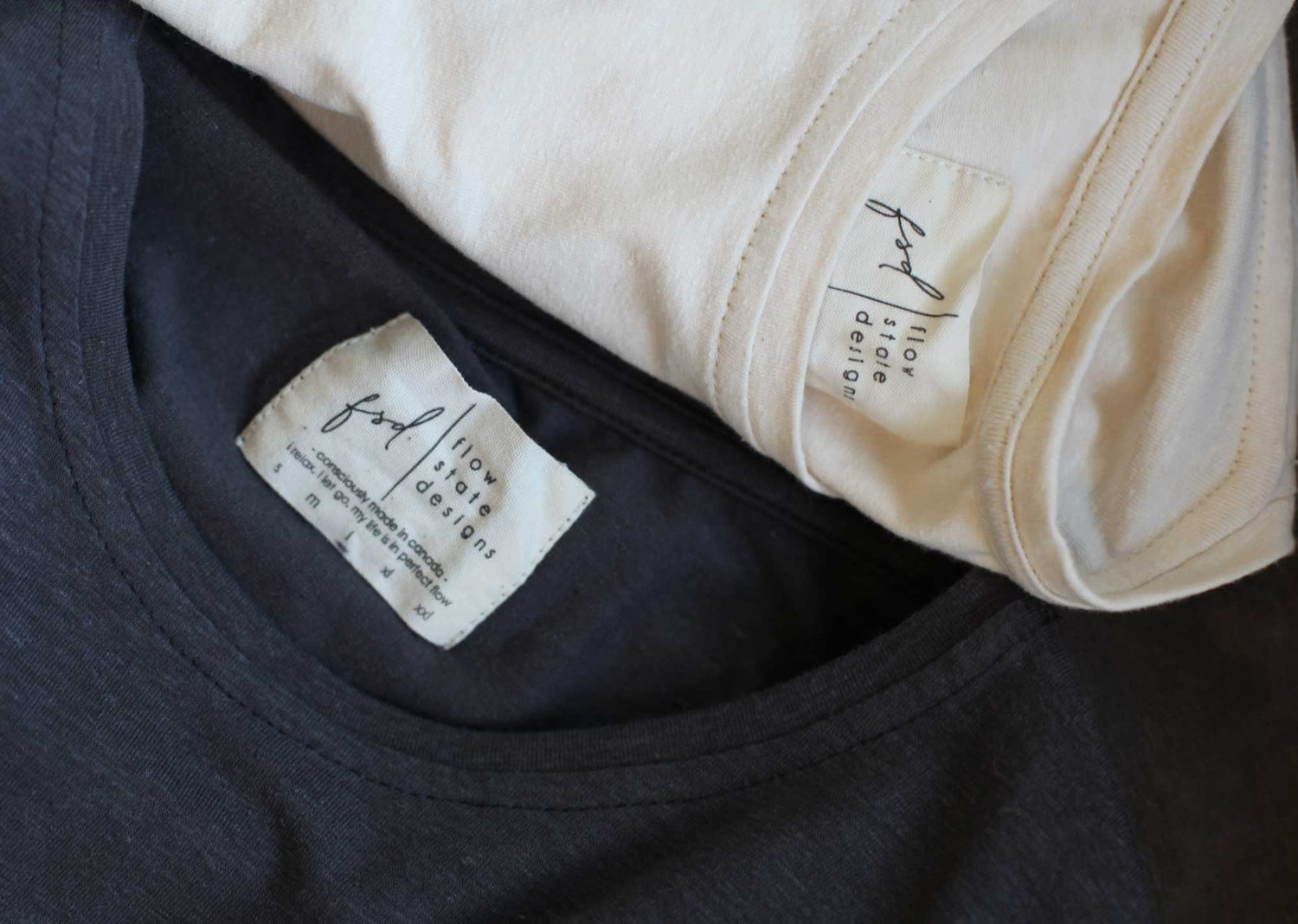 regenerative efforts.
At Flow State Designs, we embrace our responsibility to the planet. While no one is perfect, we strive to make a positive impact. That's why we're shifting from sustainable to regenerative practices, aligning our actions with our values.
Our clothing is crafted with the most regenerative fibers, sourced and manufactured in Western Canada. With every purchase, we plant a tree, mitigating our impact on the environment. Join us in the movement towards conscious consumption and contribute to a greener future.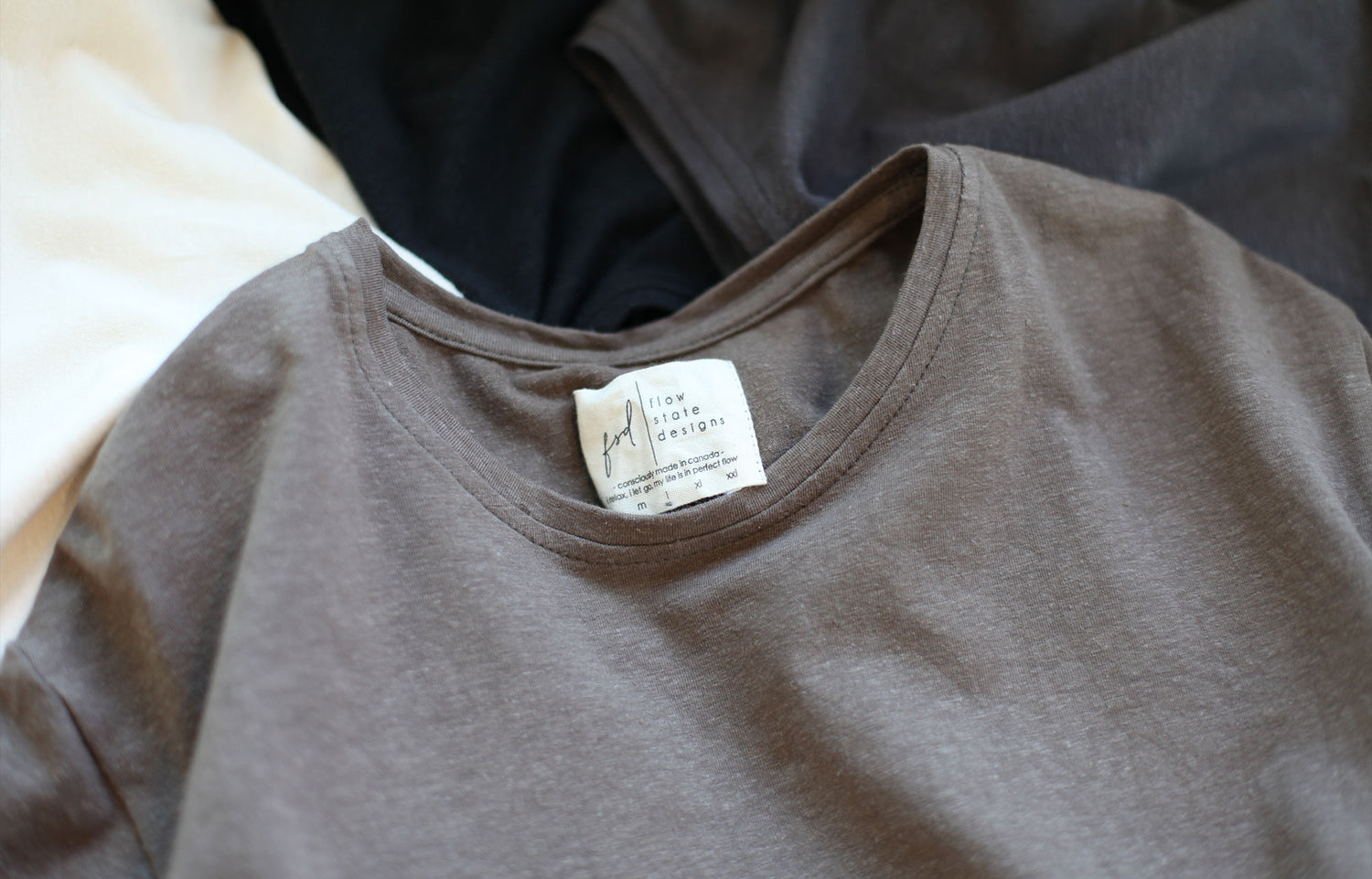 At Flow State Designs, we are driven by our commitment to minimizing our impact on the planet. From the inception of our brand to the launch of our first product, sustainability has always been at the core of our mission. We don't just add sustainability as a buzzword; it's woven into the fabric of our business strategy.
We understand that being regenerative is an ongoing journey, and we are continuously seeking ways to improve our practices. While we may not be perfect, we are dedicated to making a positive difference. Our focus is on delivering the highest quality products while remaining mindful of our overall impact.
Choosing the path of conscious manufacturing may not be the easiest or most cost-effective, but we prioritize the well-being of people and the planet above all else. Join us on our mission to make a lasting impact through exceptional, sustainable products.
what makes flow state designs regenerative?
natural, organic fabrics

At Flow State Designs, we are proud to create clothing that embodies our commitment to both personal well-being and environmental sustainability. Our t-shirts are crafted with the finest natural fibers, including a blend of 53% hemp, 44% organic cotton, and 3% spandex. While we acknowledge that spandex is not a natural material, we carefully selected it based on extensive testing to ensure the optimal fit, feel, and performance. With 97% natural composition, we believe it's a significant step towards our goal of creating garments that prioritize both quality and ecological responsibility. Join us in embracing the power of natural fibers and experience clothing that feels incredible while making a positive impact on our planet.

hemp advantage

Our team is dedicated to utilizing the remarkable properties of hemp, one of the most durable and strongest natural fibers found on our beautiful planet. While some may assume that its strength equates to roughness on sensitive skin, hemp surprises with its hypoallergenic and non-irritating qualities. In fact, hemp clothing wears in, not out, becoming even softer and more comfortable as you wash and wear it. Embrace the luxurious feel and benefits of hemp as it gracefully enhances your style, providing a sustainable and gentle touch for both your skin and the environment.

organic cotton advantage

We prioritize the use of organic cotton, which is grown in harmony with nature, free from toxic chemicals and genetically modified seeds. By opting for organic cotton, we ensure that our clothing aligns with our eco-conscious values and provides a host of benefits for both you and the environment. Experience the premium quality, unmatched softness, and exceptional durability that organic cotton brings, while enjoying the peace of mind that comes with choosing a sustainable and responsible fabric. Join us on our journey towards a more conscious and regenerative future with each garment we create.
sounds too good to be true right?
In addition to its numerous eco-friendly qualities, hemp clothing brings even more benefits to the table. Unlike synthetic, petroleum-based fabrics like polyester that become a breeding ground for bacteria and unpleasant odors, hemp clothing is naturally antimicrobial and antifungal. This means you can enjoy the freshness and comfort of your hemp garments for longer periods, as they resist bacterial growth and eliminate the need for frequent washing. Embrace the convenience and sustainability of hemp clothing, allowing you to feel and smell great while reducing your environmental impact.
additionally, hemp:
Absorbs more CO2 than trees

Requires less water than other fibers
Driven by our dedication to excellence and sustainable practices, we aspire to incorporate domestically sourced hemp into our product line, forging strategic alliances that align with our vision and values as we continue to evolve and expand.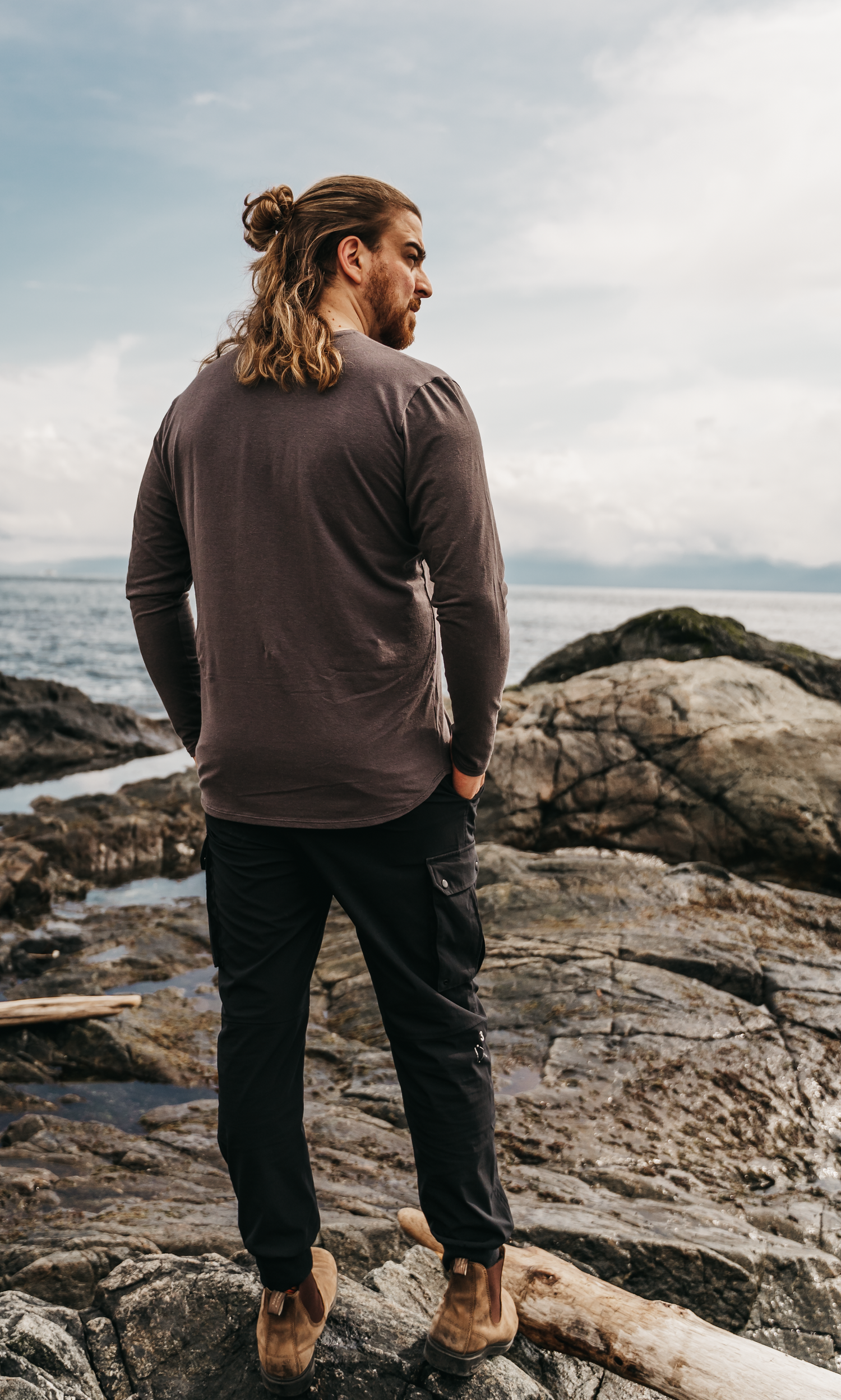 consciously made in canada, what does this mean?
At Flow State Designs, we believe in creating clothing that embodies excellence in every aspect. From carefully selecting the finest textiles to manufacturing our products in Calgary, Alberta, we prioritize quality, sustainability, and ethical practices. By keeping our production local, we minimize our carbon footprint and support the livelihoods of our skilled artisans who are paid fair wages and work in safe conditions. Our commitment to regenerative efforts extends beyond the environment; it encompasses uplifting communities and fostering a positive impact. Join us in our mission to make a difference, one consciously crafted garment at a time.
plant a tree.
Every purchase plants a tree
We mitigate some of our impact by planting a mangrove tree with every order. The mangrove has many positive benefits, namely its ability to store 5 to 10 times more carbon than other trees. I think we can all agree that trees are good and together we are doing something positive!
We have partnered with Ecodrive who are the standard for verified nature-based sustainability solutions.
Simple 
Climate action doesn't have to be complicated or confusing. With every order, together we plant one mangrove tree in Madagascar. 
Tangible
Tree = Good. Trees are a direct investment into our planet. Unlike most solutions, planting trees is additive and leads to a long-term positive impact on our environment.
Transparent
Every tree we plant is blockchain verified. They are monitored and scanned by planters with geo-coordinates, time stamps, and photos and then stored on a public ledger for trackability. Our partners, process and tech is the most transparent in the industry.
Packaging
We use simple paper bags that we source from a Calgary based paper wholesaler.
Our bags are:
100% Recyclable
100% Compostable
100% Bio-degradeable
Made from post consumer recycled paper.
We are conscious of the amount of packaging that we use and do not use any poly bags. When purchasing from fsd online or in person, your clothing with be packaged in a plain recycled paper bag with our logo and contact information stamped onto it. 
(Our stamps were made in Calgary as well)